The brainchild of many talented individuals, it soars high above the streets of Thailand's vibrant and busy capital on the 76th floor of King Power Mahanakhon, Thailand's newest and tallest dining landmark. And with the opening of Mahanakhon SkyBar Bangkok the iconic building now offers a true escape from the hustle and bustle of the city down below. Located atop of one of the tallest buildings in South East Asia and with a capacity of 232 seats, including 86 indoor dining spaces. The vision from the beginning was to create an inviting space for people to stay and revisit frequently, and not just simply become a one-time destination.
It's essential to take time off during your busy day and have a tasty and nutritious lunch, and with our brand new amazing value set menus there's now even more reason to stop and recharge at lunchtime. Enjoy a 3-course set from the selected menu at Mahanakhon Bangkok SkyBar for THB 990++ (available from Monday-Friday) and 3-course set at THB 1,490++ with seafood platter (available only on Saturday-Sunday), and the spectacular views are free! The tantalizing new dishes on offer includes mouth-watering starters such as Seafood Platter, Pork Jowl or Red Snapper Ceviche, plus luscious mains including Seared Andaman Sea Bass, Roasted Chicken and the incomparable Beef Cheek Pappardelle.
Marrying French elegance and Thai culture, Mahanakhon SkyBar's design creates an intimate spot for locals and visitors alike to grab a drink or bite to eat. Leveraging a warm and natural color and materials palette for the interiors, the design team drew inspiration from bespoke haute couture, balancing refinement with the flexibility required for the space's dynamic range of all-day programming, from lunch through to high tea, dinner and then drinking and dancing. The outdoor terrace plays on the concept of an urban jungle, surrounding guests in abundant greenery to evoke the feeling of a lush forest in the sky. Our dining experience is also closely knit to the idea of being comfortable yet sophisticated – with our menu offering dishes for various occasions, be it the most flavorful dishes from our charcoal grill and oven, gourmet and well-thought out bar snacks or exquisite versions of Thai staples.
Seafood and beef lovers don't miss out our 6 new creations, ranging Phuket lobster, white wild salmon and the perfect couple; Australian wagyu with foie gras, pair your favourite selection with our brand new mocktails.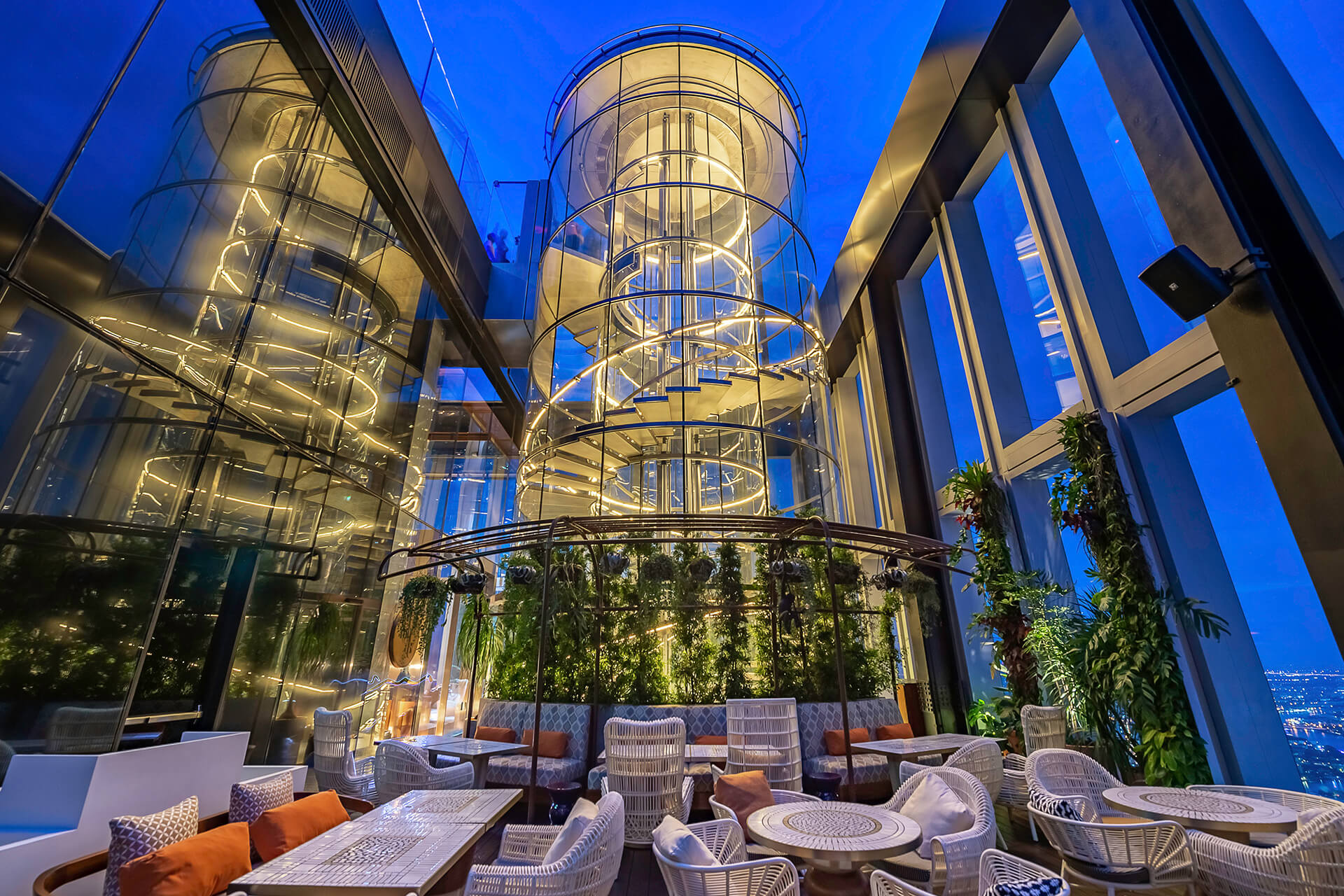 2019_07_01_MahanakhonDishes_0060
The ultimate way to escape Bangkok's ever buzzing streets is to look up in...